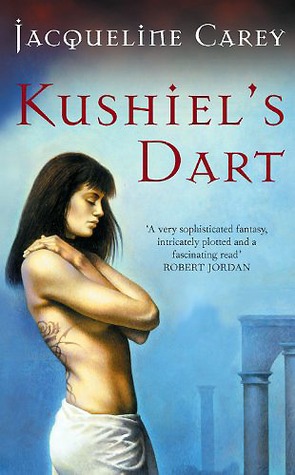 Genre: Fantasy
Year: 2001
This is the first book I've read that has nothing to do with school since winter break. It's been sitting on my bookshelf for about a year, because it's part one of a trilogy and I didn't want to start it until the third book was out. Now that it is, I'm glad I waited, because it's a damn good novel and I'd be sad if I had to wait to read the next two. This is another novel where it is a demi-history – you can see aspects of existing cultures and history in the story.
This is Carey's debut novel, and I certainly hope that mine will be as striking and complex as this one. I adore it. I admit, there's a little kink to it, but the characters are simply more real for it. It's told in the first person, which is interesting. I'm not usually a huge fan of the first person in this kind of epic, but Carey pulls it off very well.
Phedre is a young woman who was born with a scarlet mote in her left eye. She is sold into indentured servitude to a man called Anafiel Delaunay who teaches her not only the arts of a courtesan, but those of a spy. As such she stumbles upon a plot that will shatter the very foundation of her homeland and she sets out to unravel the deeply laid plans of a truly delicious villainess. I can't wait to see what happens in the next two novels!